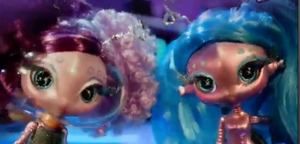 Advertisements are a way of getting attention fom the public, or to pursuade them to do something. They are usually comercials, articals, or videos.
Advertisements
The first commercial for Novi Stars was a 0:46 seconds-long trailer that played a shortened version of the theme song and repeated their catch phase: "What on earth is going on?!" [Watch it >>]
The second commercial was a 0:11 seconds short teaser, which showed all four characters in the beginning. All these elements seen in the video were used for the commercials. [Watch it >>]
The third commercial was one of the three main commercials. It showed Alie Lectric and Una Verse. [Watch it >>]
The fourth commercial showed Ari Roma and Mae Tallick. [Watch it >>]
The fifth commercial presented Nita Light and her Energy Pod, in which she can relax and re-energize herself. [Watch it >>]
The sixth commercial features Sila, Malie, and Tula. They explain their cosmic quirks, and it features a new song that goes like "Novi, novi, yeah we are, galactic girlfriends, novi stars." 

There is also a music video available. The Novi Stars are played by human actresses. The most stuff is CGI (computer generated imagery / 3d) (like the flying crystals at the beginning( and green screen (like the planet dance scenes). [Watch it >>]
Trivia
- There are three different versions of the Ari Roma & Mae Tallic commercial available: [1, the regular] | [2, which was set in "not listed" after replaced by 1] | [3 from SiloFilmsProduction]