Novi Knock-Offs 
is a page dedicated to dolls that were modified from or copied
Novi Stars
. They can be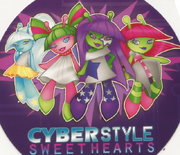 found sold in stores such as the 
Dollar Store 
Chain around the holidays, or online through various sellers. 
On this page you will find a list of the known knock-offs or copies, along with images. If you see something not on this page, please either add it or provide a photo as proof. 
Dolls that fans have modified for their own purposes do not count.
Galaxy Starz
A Dollar Store Copy consisting of three little dolls. Each box consists of a doll, silver and green pet, a pair of shoes, a fuchsia brush, and a plain black purse. The Novi's copied in this series are Mae, Ari, and Una. With Una's being the closest to her Novi variant. 
The dolls are considered odd by fans, and some believe the doll mold was originally for another series, as they come with earring holes, but no earrings. 
CyberStyle SweetHearts
A series of plush dolls that appeared sometime right after the Novi Stars did. They seem to have been inspired by them and Milky Way and the Galaxy Girls, a series of art and merchandise made some time back by a cartoon artist.
There has only been four plush dolls and they can be found during the Holidays at Dollar Stores. Only two of the four seem to have copied Novi Stars, but the dolls are considered to be quite cute amongst fans. 
Diamond - A blue alien with long white hair worn in a ponytail, dressed in a silver and yellow dress with pale blue shoes. Seems to have copied elements from Una. 
Amber - Pink alien with blue eyes and red lips. Silver dress with red collar, pale green shoes, and watermelon-colored hair worn in choppy pigtails. 
Emerald - Dark green with purple lips and pink eyes; one of which have a silver star over it. Long dark purple hair with an off-the-shoulder silver dress with a big blue star on the side. Dark blue pantyhose with silver star print and dark purple shoes.
Ruby - Light green, blue lips, white and lilac eyes. Medium-length hot pink hair with a pink dress covered with silver stars, sleeves, and skirting. Pale green and emerald striped pantyhose and pink shoes. Seems partially inspired by Alie. 
Trivia
Gallery